Love is a snowmobile racing across the tundra and then suddenly it flips over, pinning you underneath. At night, the ice-weasels come. [Matt Groening] [
more quotes
]
About a year ago our sons, Matt and Noah, decided that Miriam and I should go to California.
To see it.
We had never been to California.
Never been to a lot of places. But not been to California?

Over the years we've had excuses. Going to the Cape, to Paris, Maine, Alaska, Arizona, even Switzerland.
We're busy. Job responsibilities. Clients. Blah blah blah.

Enough.

They took charge. We found a "week" when we all would be available -- August 21-30. The plan was that we'd all land in San Francisco. They booked where we'd stay (with one exception) and what we would do. Everything. We were the kids. They were the parents. They drove. We rode in the back seat.

We all arrived at San Francisco International Airport (SFO) within an hour of each other late in the morning on Friday, August 21. We came from Boston, Matt from NYC, and Noah from Tucson.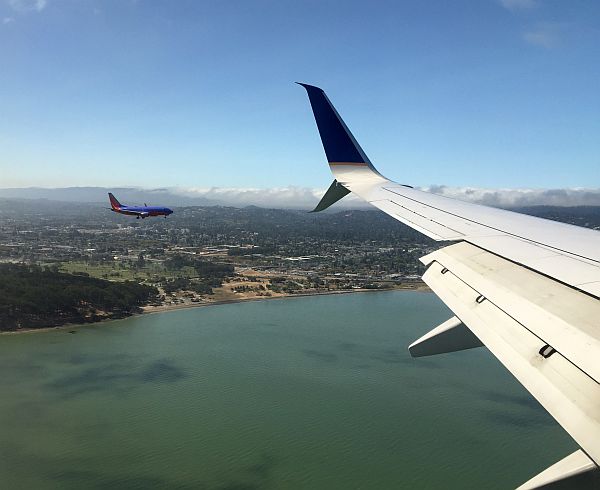 Do we all land at the same time?

During the year of planning for this expedition, Matt and Noah carefully drilled into us that we should not plan for an expedition. This meant we should not bring two (each) check-in suitcases plus carry-ons. We tend to travel heavy. But they did not want our excessive travel-crap to overwhelm the rental car. We each brought one check-in bag and a backpack. They each brought a backpack. Whew.

After greetings and wonderment that we really had arrived and were about to start this California Adventure, we headed out of the airport to pick up our rental car. In April when Miriam and I rented a Hertz car for two weeks in Arizona, we were shocked at how shabby the car was and how little help Hertz (#1 they say) was in resolving the car's problems (like, it won't start; their solution -- go get it fixed. huh?). Matt was in charge of the car rental, and he chose Sixt, which was not an "in airport" rental outfit. However -- and this was a surprise -- the airport's "loudspeaker travel advisor" advised us where to go for transportation to "outside the airport" car rentals. We ended up on a street corner outside the airport, where a Sixt minibus picked us up and took us to the car rental depot, which was at a nice Westin hotel. Matt and Noah signed on as the drivers (remember, we were the kids on this trip), and our excellent Corolla took us on our way and was a happy car for the entire trip.

We drove around SF for awhile -- hills, trolly cars, people. At Fisherman's Wharf there were street performers and tourists. We thought of Fulton Fish Market in NYC, a bit of Commercial Street in Provincetown, and probably any large city with a touristy scene. But this was SF so we were glad to be here.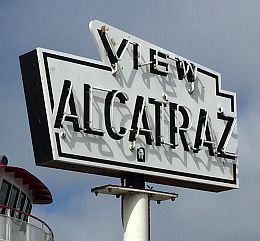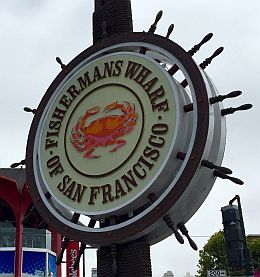 We got this close to Alcatraz.

We had lunch or early dinner (or was it breakfast?) at a Thai restaurant.

Late in the afternoon we headed north to Petaluma, where Miriam's cousin Michael has a B&B in a grand house built in 1895. He and his wife Kathy have restored it with original fixtures and modern conveniences. We occupied three rooms, yet they had other private rooms (and baths) for another two sets of guests.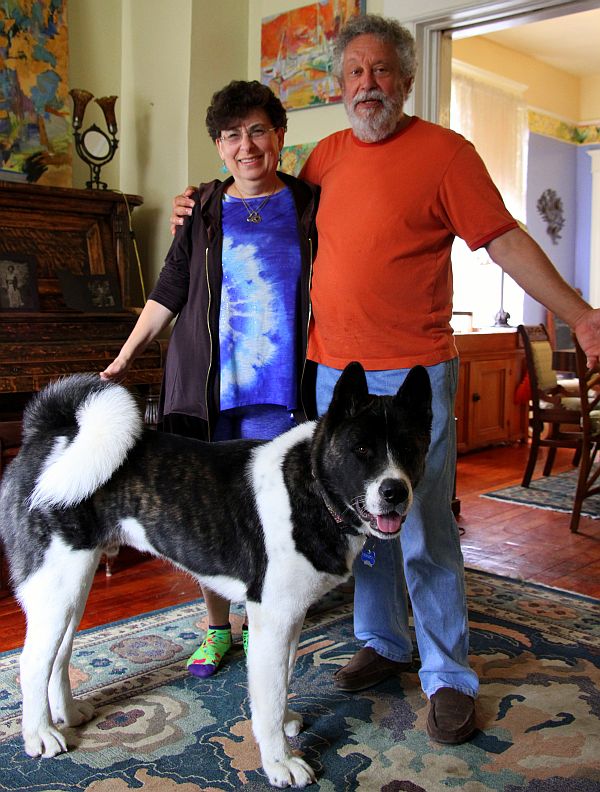 Miriam, Michael, and Raijin

Living with Michael and Kathy -- or perhaps they are living with him -- is Raijin, a 100-pound, 11-month old akita. We all fell instantly in love with Raijin. He would back into you, and keep backing, and then look up, and I'm sure he smiled.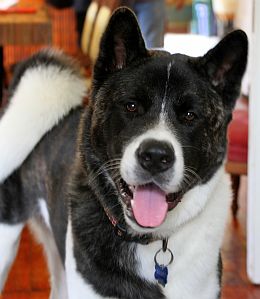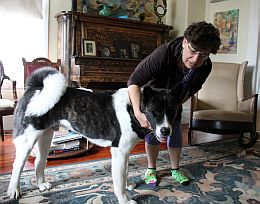 That night the six of us (without Raijin) had dinner at the Everest Indian Restaurant.

Saturday morning (August 22) began with Michael's sumptious breakfast for all guests: delicious pastries gently warmed, very excellent coffee, fresh fruit and fruit juice.

And of course the spirited conversation on all topics that Michael inspires. He knows where to go and when to go in California.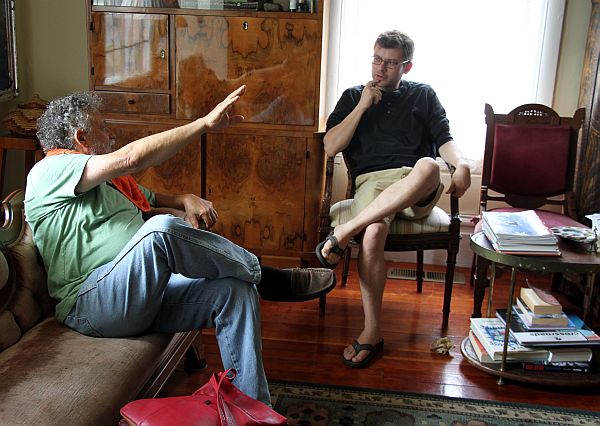 For this morning's Thrill Quest we took his advice to skip Muir Woods (crowded) and head to Armstrong Redwoods in Sonoma.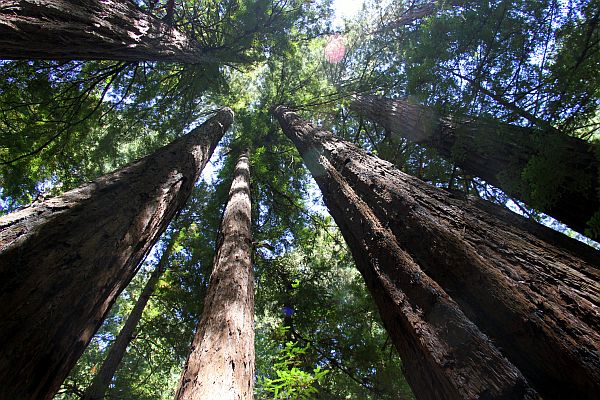 Those are big trees. Nothing like this in New England.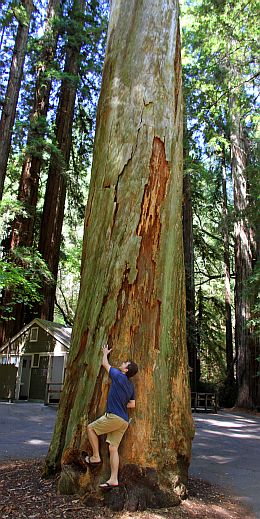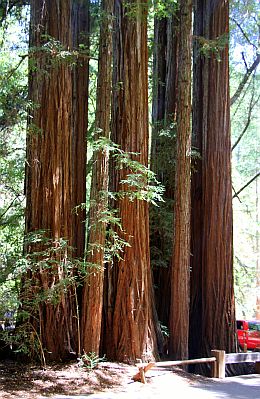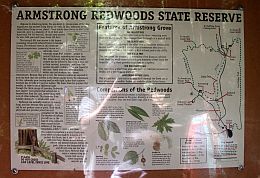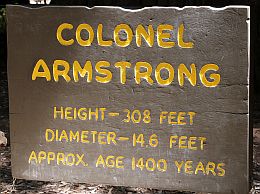 That's me!

We (actually, Matt) drove up a winding and steep hill (very winding and very steep and BIG hill). In a few spots it was one way only. Due to the switchbacks, one never knew there was another car heading up or down until almost too late, and one would have to back up or down to find a small pull-out. Yikes!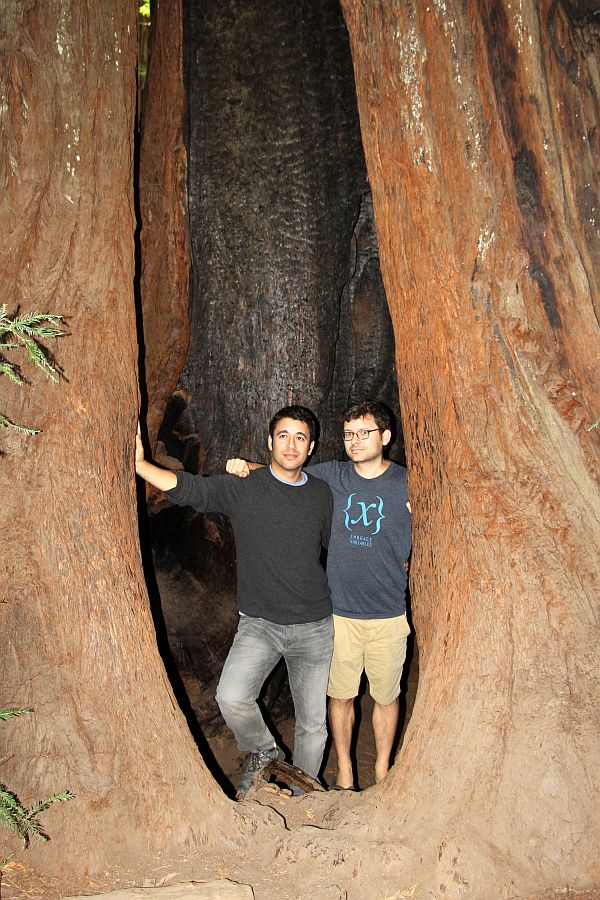 After a long hike through the redwood forest and the scary drive up the winding hill-mountain, we finally made it out of Armstrong and headed . . .

Plans collide. And really, each day was mostly unplanned until right before we headed out.
But today, a sort-of plan was to get Noah to the ferry terminal so he could arrive in San Franciso in time to take the train down to San Jose for a commitment the next day.

So we headed to Dillon Beach. There it is! Nice! But we didn't get out to splash in the water. We needed to eat. Michael's breakfast was long ago by now, and we needed to get Noah to the ferry landing by 3:30. Stress stress. Nah. We decided to have a great and relaxing lunch and then drive into San Franciso and find the train station. We didn't find anywhere to eat (that we liked) along the coast so we headed back to Petaluma and found Cafe Zazzle, a "quaint cafe offering an eclectic menu, including Asian & Southwestern dishes." After a fine lunch, we had about 90 minutes to get down to San Franciso and find the train station. We made it by (pretty much) shoving Noah out of the car in front of a large structure that we hoped was the train station. It was. He was off.

Miriam, Matt, and I headed to Pier 39, which is a full-time carnival featuring performers, shops, chocolates shops, fudge shops, more performers, sea lions, merry-go-rounds, lights, and more of all of that. It may not be WHY one goes to San Francisco, but if you're there, don't miss it.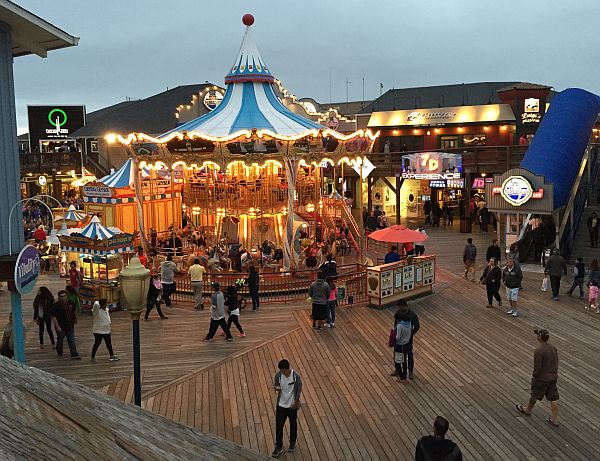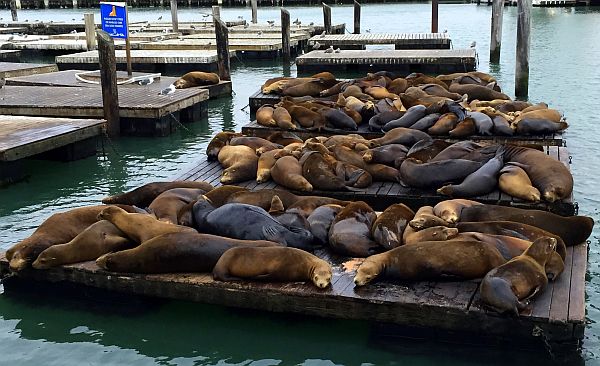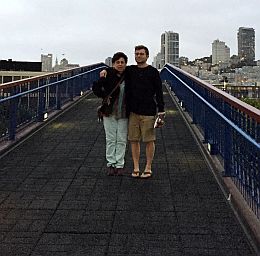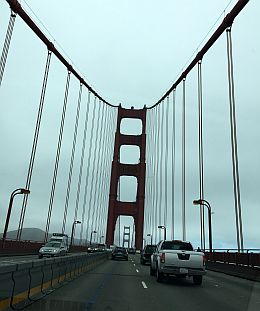 We got back to Petaluma late, and that night I dreamed of breakfast and sea lions.

On Sunday morning the 23rd, Miriam headed down to the gem show in San Francisco with Michael, Kathy, and their son Zach.

After considering the vineyards in Sonoma and Napa Valley, Matt and I decided for vague reasons to head to Napa. Along the way we came upon a total traffic block. Based on the emergency vehicles scooting around, it must have been a car accident. Unlike the random cow path roads that we have in New England, California country roads tend to be more grid-like (am I wrong?), and Matt did a u-turn, headed back the way we came, found a road that went perpendicular to our blocked road, took it, and took the next road heading in the direction we intended, soon took a road heading back to our blocked road beyond the accident.

So we came to the Robert Mondavi Winery in Oakville, Napa Valley. And we took the tour. Everything about Mondavi is big. They are very proud to sell more wine than anyone else (did they really say that?). They harvest more grapes, have bigger vats, more bottles, and so on. We tasted three wines, all available at the vineyard but not in stores. They ranged in price from $30 to $60. They were drinkable but were not very good.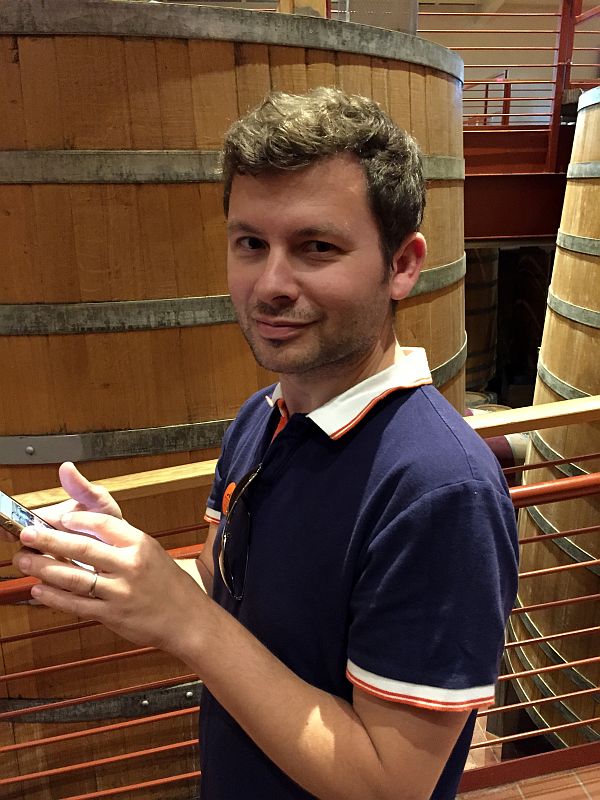 I was reminded of the difference between the California Big Wine Model and the French Model we experienced last spring along the Rhone. The French do not irrigate. Mondavi is all about irrigation. The French never mention quantity, only quality. The tastings in France are almost as much about the cheese or crackers served between sips as about the wine itself. At Mondavi, the "snack" seemed an afterthought. The French host was often the owner or vintner. The Mondavi host/guide was fine, but he was a "rep" doing a job.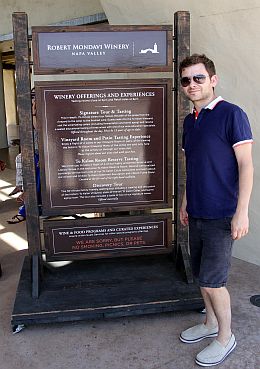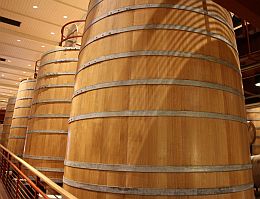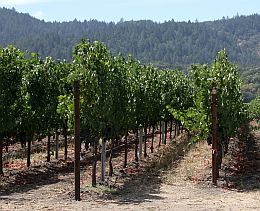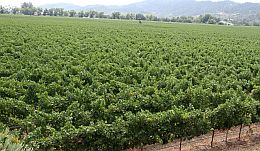 We found a very decent Chinese restaurant for lunch. Food note -- with one exception (keep reading), we are all vegetarian, so that makes meals more challenging.

After our 1st Chinese food meal of the day (really? -- but in China they may call it just "food") we headed to the Castello di Amorosa Winery, located off route 29 in the northern part of Napa Valley, between the towns of St. Helena and Calistoga. This is an authentically-built, 13th century inspired Tuscan castle and winery. Why did they bother?

Reproductions of European castles in Napa Valley? Not interested. But we were there and we walked about the castle, which seems to have been built from stone brought over from Italy. Big job. But it just seemed wrong.

Since we had bought tasting tickets, we looked for the wine tasting venue, and found it. Part sports bar and part college frat house basement bar, Yes, it was a bar, with bar stools and crowds of folks jumbling about to get the attention of the bar guys. Their #1 priority was to find out where you lived so they could sign us up for wine delivery from this winery. And just saying -- Matt and I saw no grape vines, grapes, wine caskets, or anything else to suggest this was a vineyard. Our wine "ticket" gave us five tastings. We tried one each, didn't like it, and left. I'd like to say we have standards, but not sure of that. After all . . .

We headed to the Old Faithful Geyser in Calistoga, between Highway 29 and Highway 128 on Tubbs Lane. Wow!




Educational moment, from the Old Faithful Geyser website:
"How geysers work
Geysers are generally located on the edges of the Earth's tectonic plates. These plates are unstable, generating tremendous energy that erupt at fault lines. This dynamic can result in earthquakes and volcanoes; it also provides heat sources for geysers and hot springs. Geysers require water, heat, and a plumbing system. Many geysers are located near rivers and draw water from them. The water in geysers is heated by magma that lies around 3 miles (4.8 km) beneath the surface of the Earth.

"The process occurs as water filters down to the geyser's plumbing system through fissures in the ground and is under extreme pressure. As the magma at the base of the geyser transfers heat throughout the system, more energy gets trapped in the water. Eventually, as the water heats up, it becomes turbulent. This turbulence pushes water out of the geyser, releasing pressure. The water converts to steam. The steam quickly expands to 1,500 times the volume of water and which forces water and steam from the geyser. These eruptions continue as long as the water in the geyser remains hot enough to push water out. This continues until the system runs out of water or the water cools sufficiently to cease the process (or eruption). Then the cycle starts all over again.

"Under normal conditions, the water, the heat and the underground structure all remain constant and for this reason Old Faithful erupts regularly. Conditions which cause deviations from the normal pattern seem to relate to earthquakes. The Old Faithful Geyser of California is proving itself a predictor of quakes."

Also not to be missed is the Feeding of the Goats at the geyser site.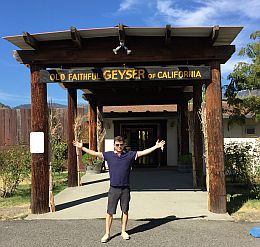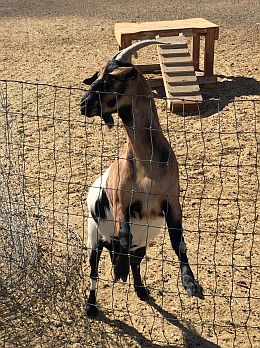 That was Napa Valley, at least for this trip. Matt and I returned to Petaluma, and we all (Michael, Kathy, Zach, Miriam, Matt, and I) went to dinner at a . . . Chinese restaurant!

On Monday morning, after another breakfast that couldn't be beat, we said goodbye to Michael and Kathy, and headed south. We went through San Francisco and had lunch at a simple cafe along route 1. We gazed at the Pacific Ocean (big),and stopped at least once to walk on the beach.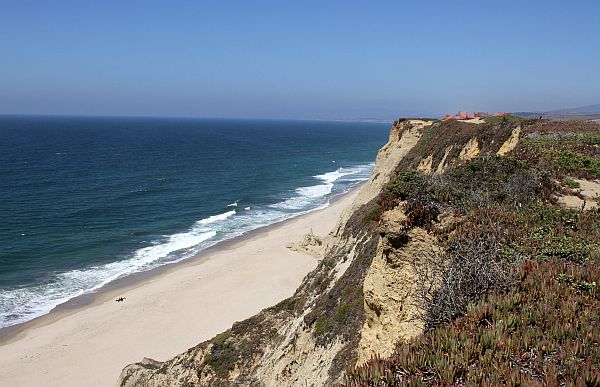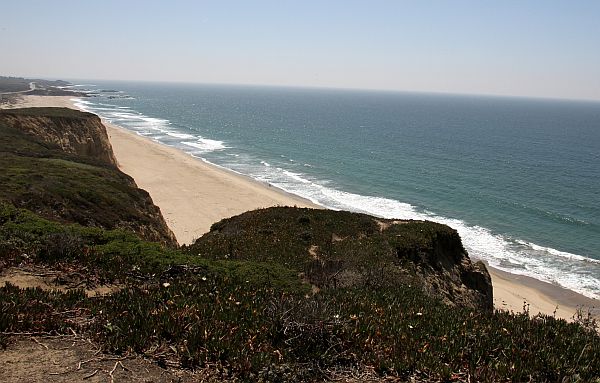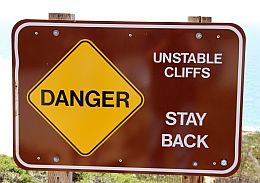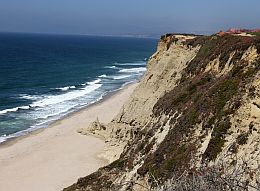 In the late afternoon we arrived at Casa Majella in Pebble Beach. This is a gorgeous Airbnb right off 17 Mile Drive, and close to Carmel and Monterey. Noah and his friend Jenn had arrived, and Jenn joined us for the rest of the trip.

For dinner, we found a vegan Mexican restaurant in Monterey.
Noah is vegan, though he may be sliding a bit back into vegetarianism.
Jenn is a minimalist meat eater.
Matt is vegetarian.
Miriam is vegetarian, gluten-free, salicylate-free, and organic-only where possible.
I'm a virtual vegetarian.
So our meals on this trip (away from our personal kitchens) were a (tasty) challenge.

Breakfasts at Casa Majella were excellent, thanks to Chef Matt's amazing way with omelettes.

On Tuesday the 25th we celebrated our wedding anniversary by being driven (Noah at the wheel this morning) to Big Sur.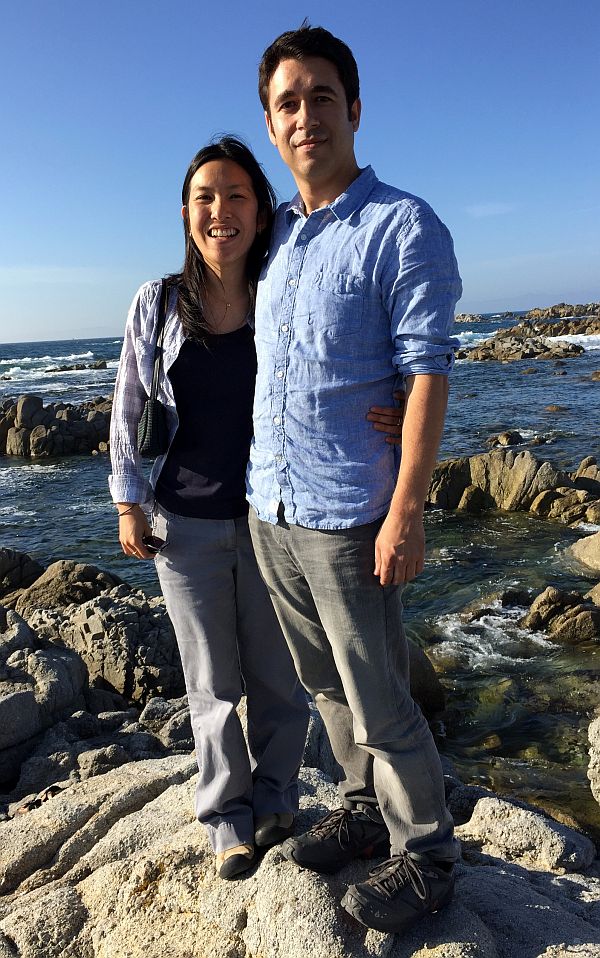 Noah and Jenn



Matt talking with Tenzing

We went to Pfeiffer State Park, which features redwoods, conifers, oaks, sycamores, cottonwoods, maples, alders and willows. And bugs. We hiked up a steep trail to a waterfall.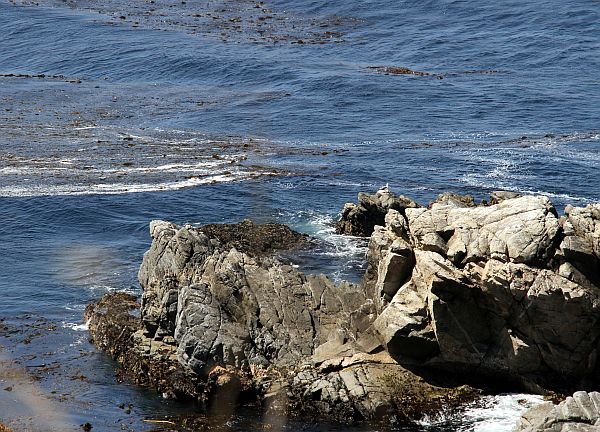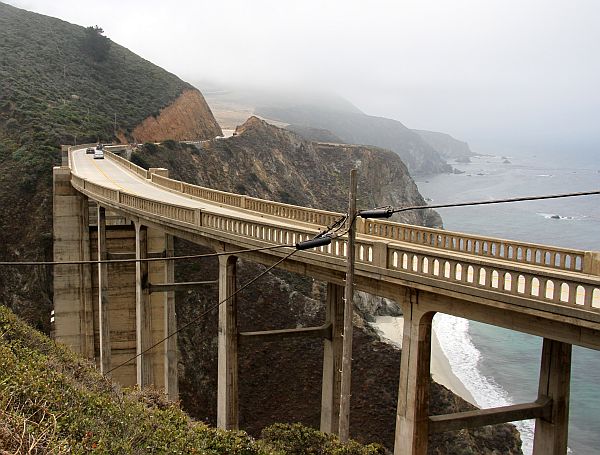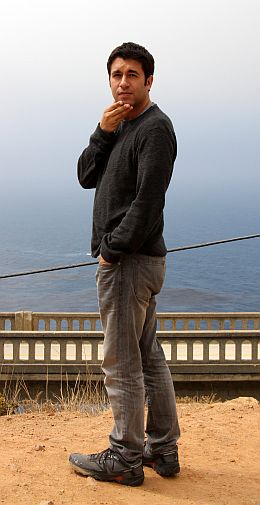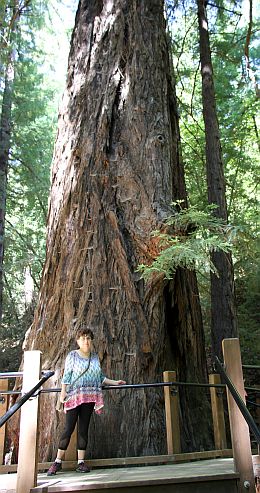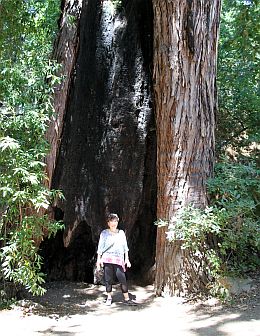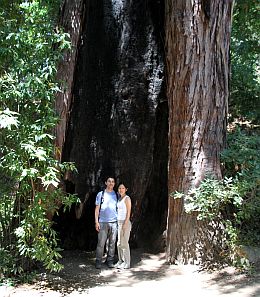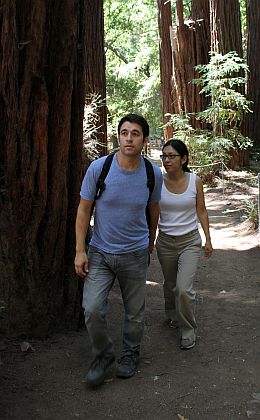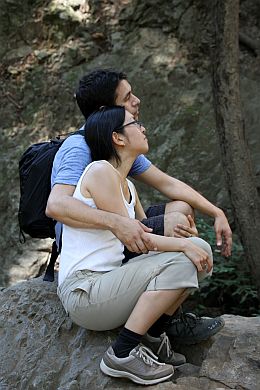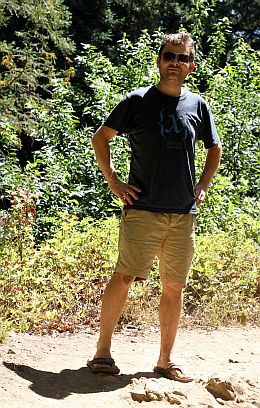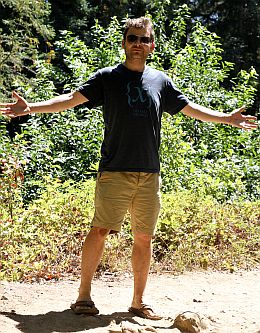 We found the Nepenthe Restaurant in Big Sur for lunch. Extraordinary views from the top level.

We found the Julia Pfeiffer Burns Park for another short and very scenic walk.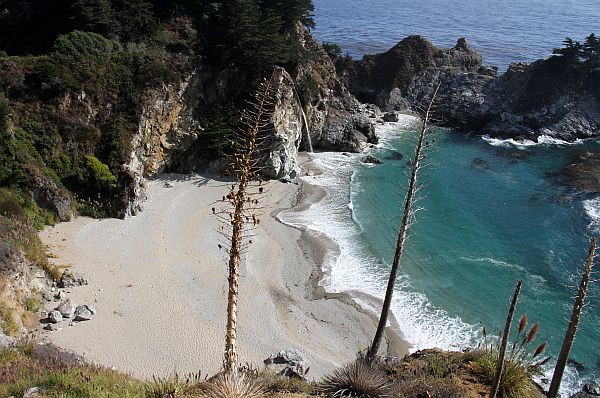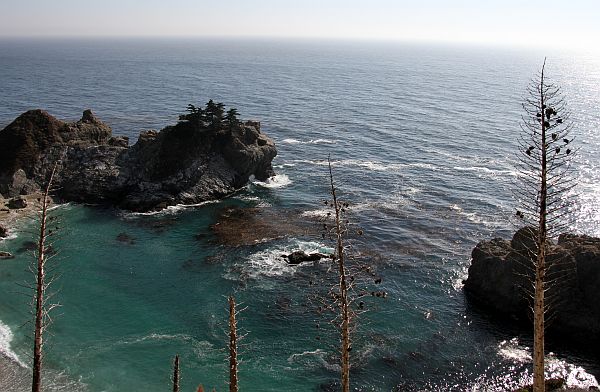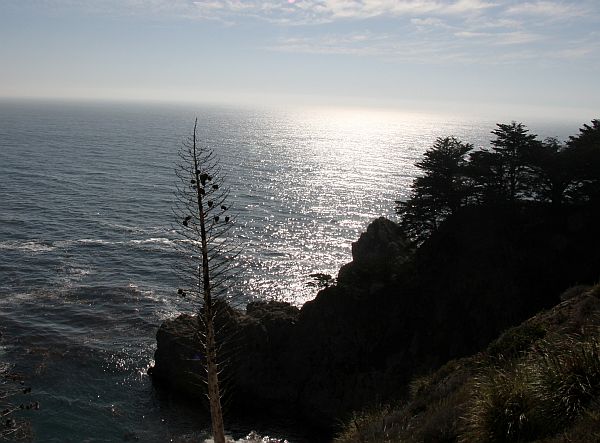 Then it was on to Pfeiffer beach. This sandy edge of the ocean was windy and offered close views of powerful waves crashing through huge rocks in the water.

Noah and Jenn took over for dinner, with Noah chopping and chopping and Jenn cooking/flipping/flouncing kale in a huge fry pan. Great dinner!

After another feast of Matt's omelettes for breakfast on Wednesday the 26th, we headed to the Monterey Bay Aquarium. This is a destination for any trip to this part of California. The jellyfish won my heart. Gorgeous creatures.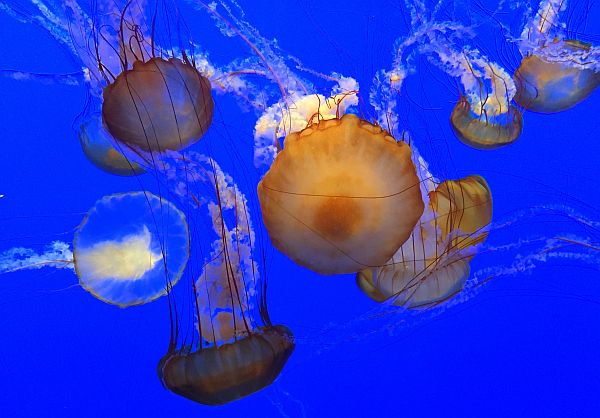 We found a good Indian restaurant for lunch. Jenn then headed to Watsonville to be with her family, and the four of us went to Carmel beach -- white fine sand and fascinating trees.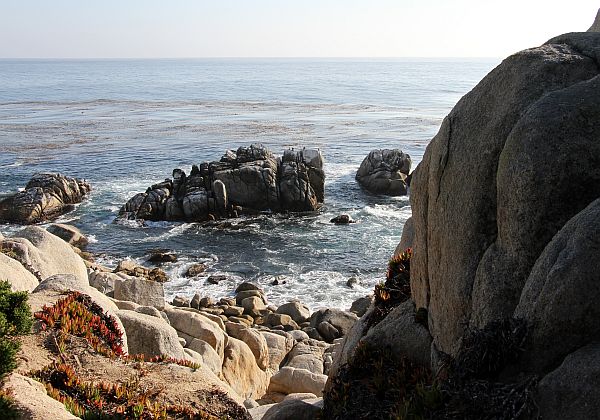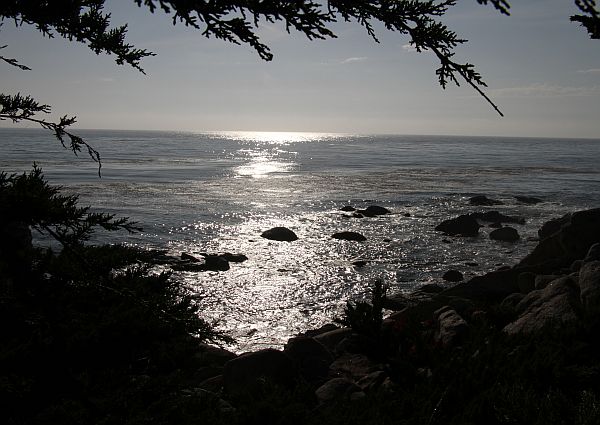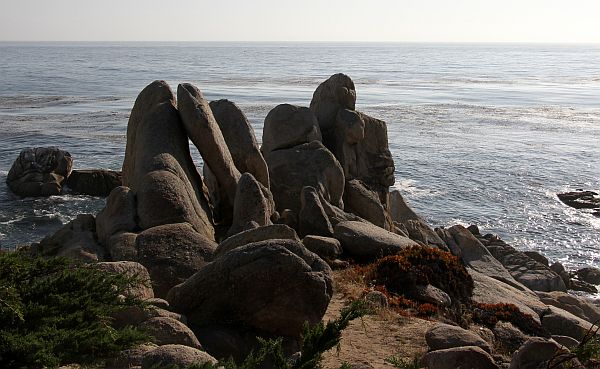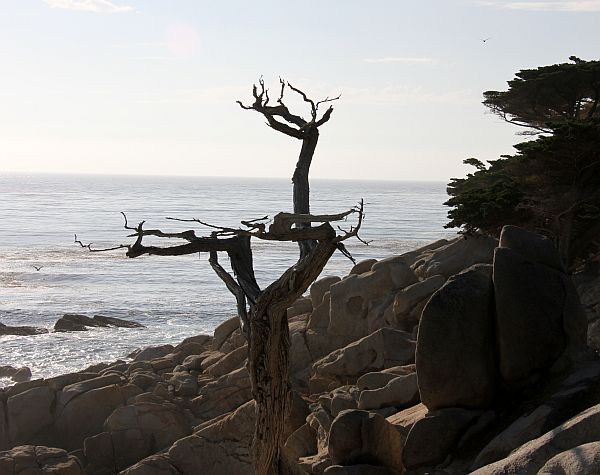 We went into downtown Carmel but it was getting late and most of the shops were closed. And why were we there anyway? Not a destination stop.

Now it was time for a "race to the sunset" along 17-mile drive, with Matt at the wheel. We did reach a perfect spot to see the perfect sunset against the rocky shore of the California Pacific coast.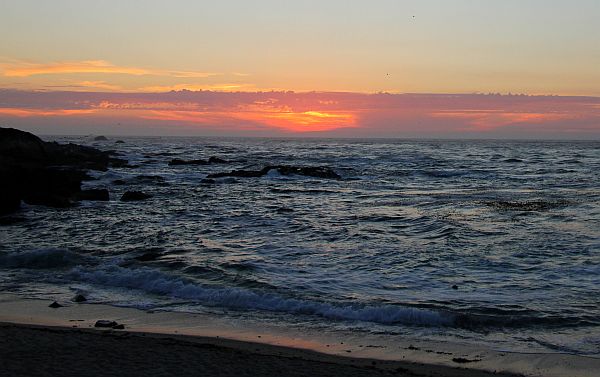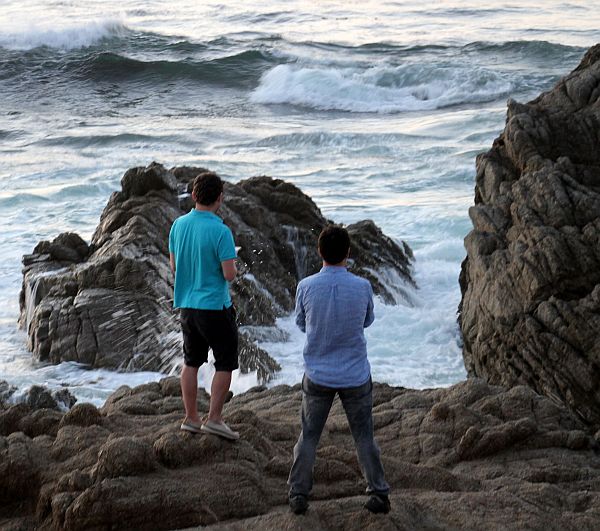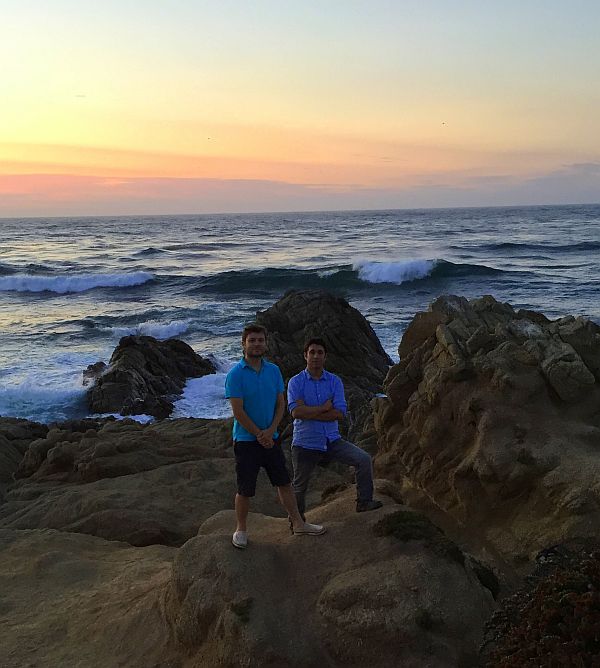 Back at Casa Majella, Matt and Noah put together a tremendous dinner. I think that was the night I did all the laundry. We all specialize in something.

We left Casa Majella after breakfast (omelettes!) and headed to San Jose, where Noah met Jenn for lunch and Matt introduced Miriam and me to Chipotles. The plan then was to meet Noah and Jenn at our San Francisco place, a 2-floor loft on Van Ness Avenue, Nob Hill. Educational moment -- "Nob Hill is a neighborhood in San Francisco, centered on the intersection of California Street and Powell Street. It is one of San Francisco's 44 hills, and one of its original Seven Hills."

We arrived first. Miriam and I claimed the mirrored upstairs bedroom, up marble steps. Matt would take any and all parts of the huge multi-section couch. Noah and Jenn would have the mattress that spends the day under the pool table. There was one fine bathroom and a kitchen located a short walk down a public hallway. No tables or chairs, except for a huge square coffee table. Omelette time was over and so were home-cooked meals. Fortunately, San Francisco has restaurants.

Noah and Jenn hadn't arrived yet and it was getting late, so Matt, Miriam, and I headed on foot to Chinatown. It was a long, hilly walk! [Chinatown is centered on Grant Avenue and Stockton Street in San Francisco, and is the oldest Chinatown in North America and the largest Chinese community outside Asia.] We passed Grace Cathedral, and we descended some scary steps in the darkening evening before we reached our destination -- an unassuming but wonderful vegetarian Chinese restaurant. I had a Masala dish in a clay pot, and Miriam something similar but without the spices.

On the way back to Van Ness Avenue we found Noah and Jenn in a Moroccan restaurant.

We had a balcony and I leaned over a bit to take some photos of San Francisco lit up at night.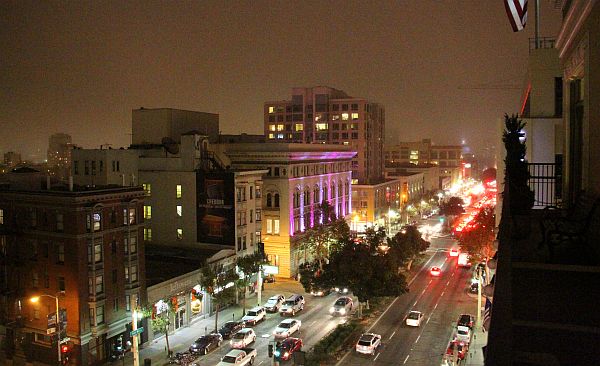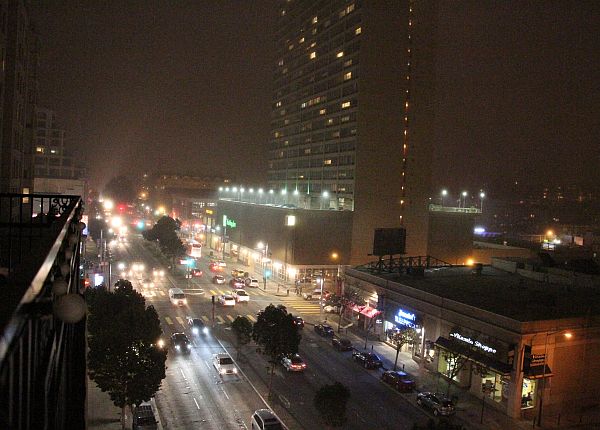 On Friday the 28th we headed to Sausalito at the northern end of the Golden Gate Bridge for breakfast and to look around. It's touristy, but we're tourists. From there we drove to the Marin Headlands, a hilly peninsula just north of San Francisco across the Golden Gate Bridge. From here, the views of the area and the Golden Gate Bridge were spectacular.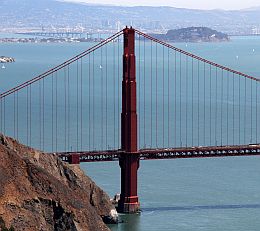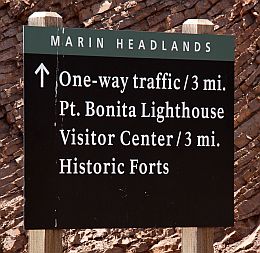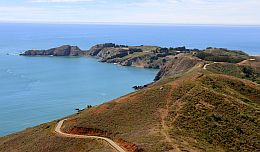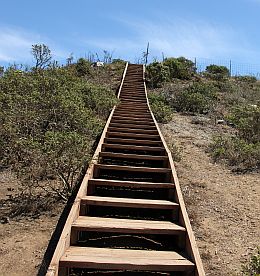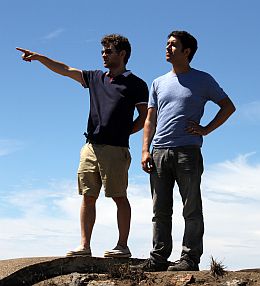 After a quick stop back at Van Ness to get changed for the evening, we headed to the Golden Gate Park, and spent a perfect late afternoon in the Japanese Tea Garden, the oldest public Japanese garden in the United States.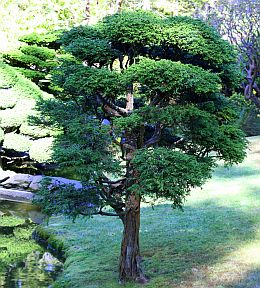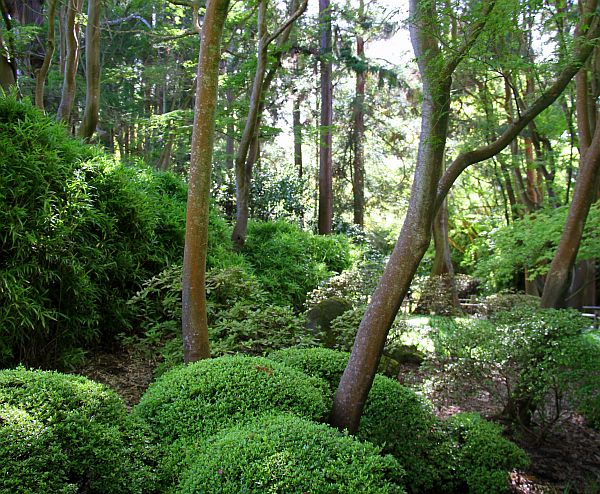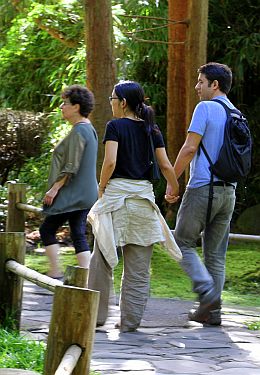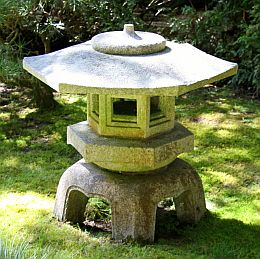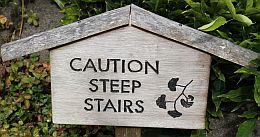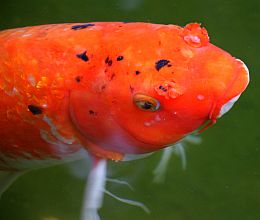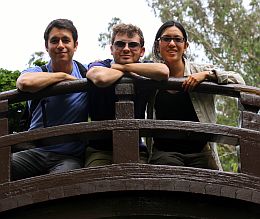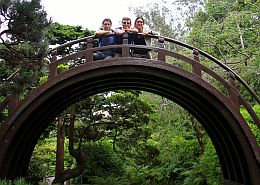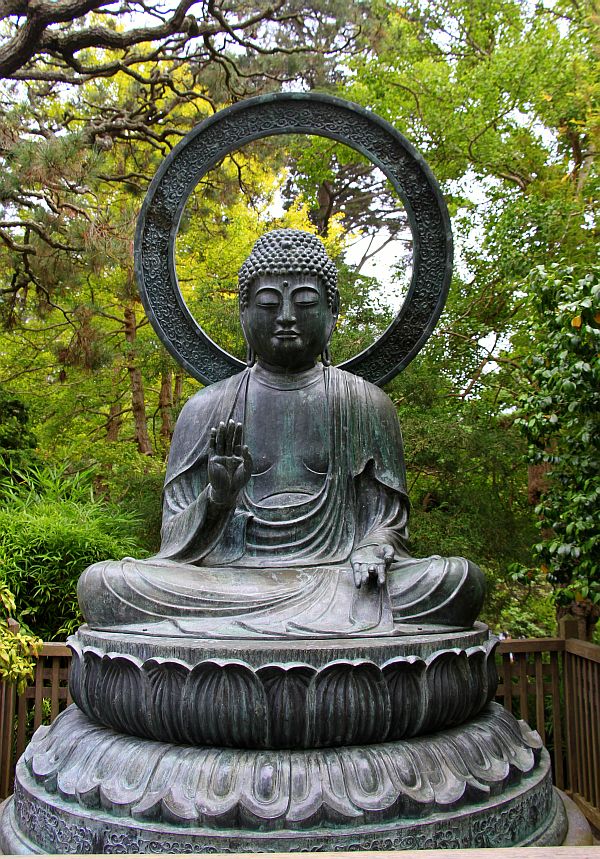 Miriam's cousin Ben and his wife Jana had invited us to dinner for this evening at their home near the Golden Gate Park. After we arrived in the area, Miriam, Noah, and Jenn headed off to buy some flowers. Matt and I headed to Ben's street and perhaps from his amazing skill at parking his car in Manhattan every day, Matt found a parking place right across the street from Ben's home. We then walked back a few blocks to retrieve the others and our gang arrived at Ben's door.

What a great evening! Ben and I remembered his loft apartment on East 60th in Manhattan, and many other things about his life back East. Jana exudes a sparkling and quick wit. It was great to see them both.

Their daughter Amy soon arrived and told stories of her travels. As we talked about where we're going and why, she came out with the "take away" line for my whole trip -- "When traveling, you want to be running towards something, not away from something." Her sister Sally had arrived shortly before this, and the three of us were sitting at one of the table in our own conversation pit. When Amy delivered her "when traveling" line, Sally and I looked at each, then at Amy. We said, wow.

It was a great night, and the overwhelming amount of Thai food that magically showed up was delicious. Still bewildered that we ate it all.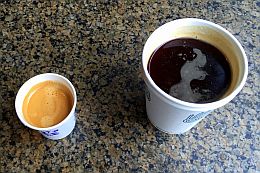 Jenn explained the West Coast duel between Peets and Starbucks. On the East Coast we have Dunkin' vs nobody, though Starbucks is there somewhere. Anyway, on Saturday morning the 29th, Matt and I went to Peet's across the street from our duplex home on Van Ness. He had an expresso and I had a very good Americano.

All of us then headed for Lands End.

Educational moment.
"Lands End is a park in San Francisco within the Golden Gate National Recreation Area. It is a rocky and windswept shoreline at the mouth of the Golden Gate, situated between the Sutro District and Lincoln Park and abutting Fort Miley Military Reservation. A memorial to the USS San Francisco stands in the park. Numerous hiking trails follow the former railbeds of the Ferries and Cliff House Railway along the cliffs and also down to the shore.

"The most-traveled trail in Lands End is the Coastal Trail, a section of the California Coastal Trail that follows the railbed of the old Cliff House Railway. This trail is handicap-accessible until the Mile Rock Overlook, and bike accessible until the Eagles Point steps. A spur trail takes users to Mile Rock Point and Mile Rock Beach, which offer views of the Golden Gate.

"Additionally, Lands End contains the ruins of the Sutro Baths. Other historic sites include numerous shipwrecks, which are visible at low tides from the Coastal Trail and Mile Rock."

I think we did all or maybe just most of the hiking. It was excellent, foggy at first but then it cleared. We descended a cliff (steps mostly but tricky) to a tucked away beach. We found great Pacific waves and huge rocks, and the usual assortment of seals and sea lions. Matt thinks dolphins too.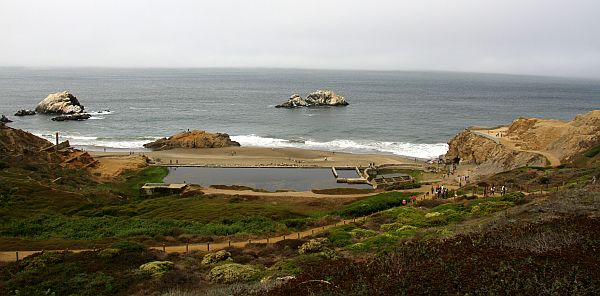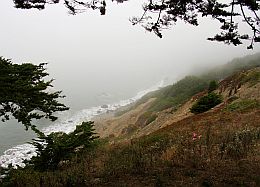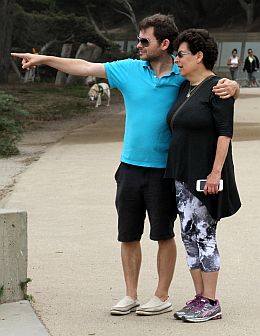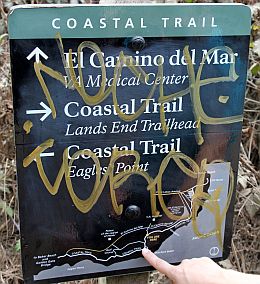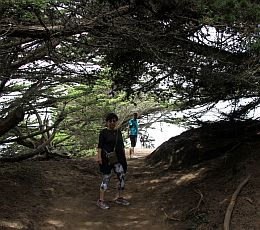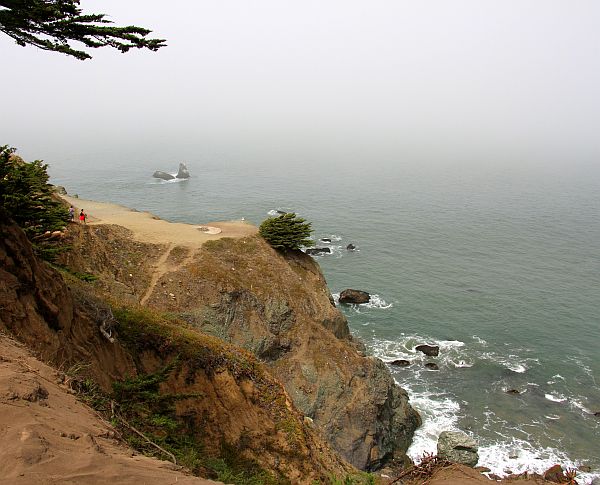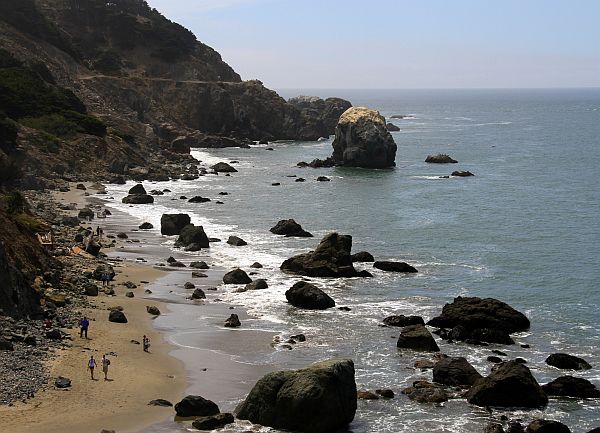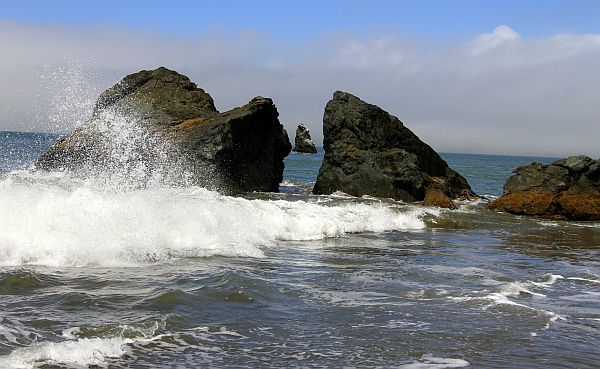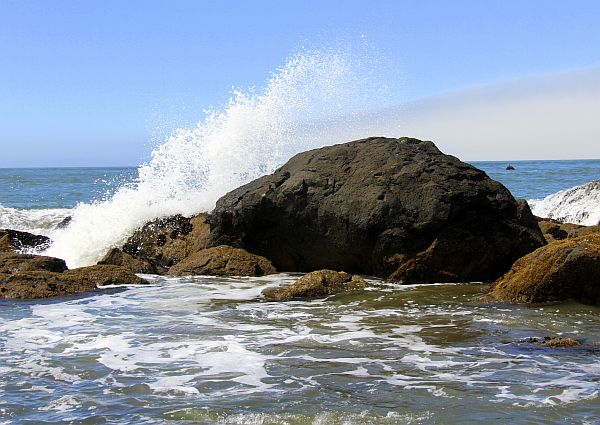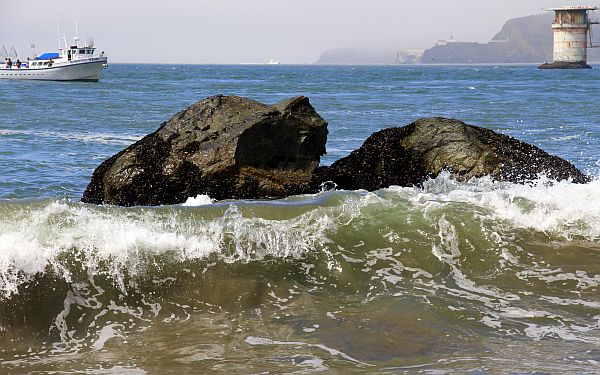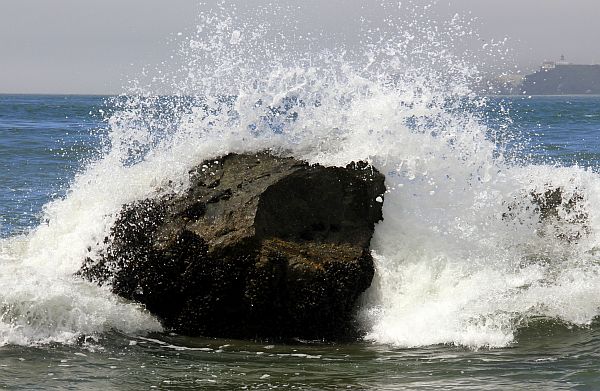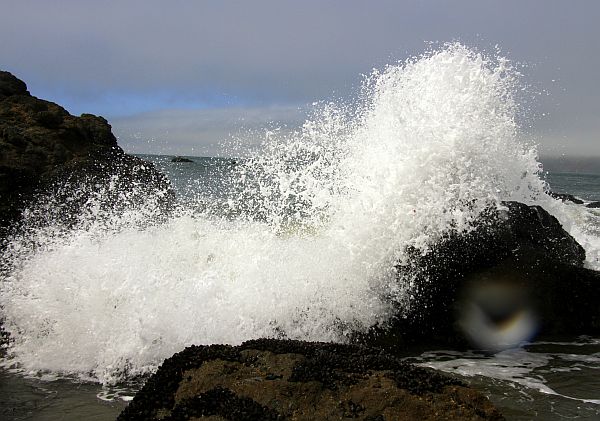 Before we did this Great Hike, we had lunch (or late breakfast?) at the famous Cliff House restaurant, on the headland above the cliffs just north of Ocean Beach, on the western side of San Francisco. We each ate about a dozen of the popovers. Yummmmmm.

After the long hike back to the car from the splendid hidden beach, we headed into San Franciso, to Lombard Street, a one-way, steep road on a gigantic hill, with eight hairpin turns and flower gardens. We walked UP Lombard Street. We had intended to walk DOWN, but oh well.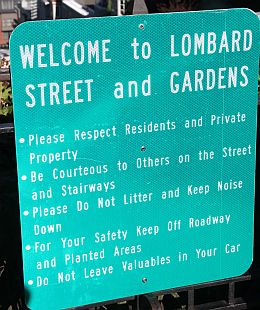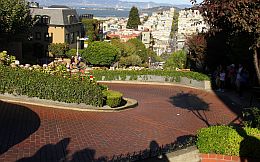 We headed over to Ghirardelli Square. Chocolate!
Then it was off to Union Square, an historic area that is now a prime shopping district. Our mission here was for Matt to check out some of the racks at the Ross store for Tenzing (a Ross buyer).

We had dinner at Thai Idea, a vegetarian restaurant.

Sunday the 30th was departure day. We headed to Brenda's French Soul Food for breakfast. We waited outside for abcut 45 mintues for a table to open -- it felt outside and inside like a popular breakfast place in Manhattan.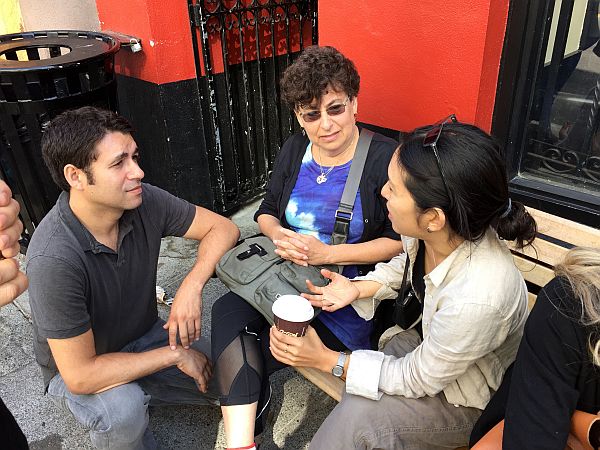 Food was great and I lost my battle with the omelette -- couldn't finish it. Wonderful but a lot of food. It's an American thing. I liked the Brenda's coffee mug, good shape with excellent handle, white with Brenda's in black script. I asked our waitress if I could buy one. She said sure, but later came back to say they were sold out of the ones for sale. And I said, "but you have a lot of them. Sell me one." She said she'd check and came back with one. I loved it. I noticed it had a very slight chip. Miriam said "get one that's not chipped!" So I did. No idea how much it cost. Matt or Noah paid for breakfast.

We still had some time before we were due at the airport, so we went back to the Golden Gate Park, which is beautiful.

Matt got us to the airport, and then he returned the car and ended up flying out about the same time as we did.

Noah had a later flight to Tucson, so he and Jenn were on their own for the afternoon before she dropped him at the airport for his flight.

We saw and did a lot. Much more than if we had been on our own. Matt, Noah, and Jenn were our guides and masters for the entire trip.

It was a treat to be hosted by cousin Michael, his wife Kathy, and Zach at their B&B.

And it was a treat to catch up with cousin Ben, his wife Jana, and daughters Amy and Sally.

It was wonderful to meet Jenn.

We are extremely grateful to Tenzing for loaning us Matt for 10 days. Spousal separation for that long is not easy and we are indebted to you both for making this trip happen.

Most of all we are thankful that our sons, Matt and Noah, took their parents by the scruff of their necks and said, "we're taking you to California and you're going to like it." We loved it.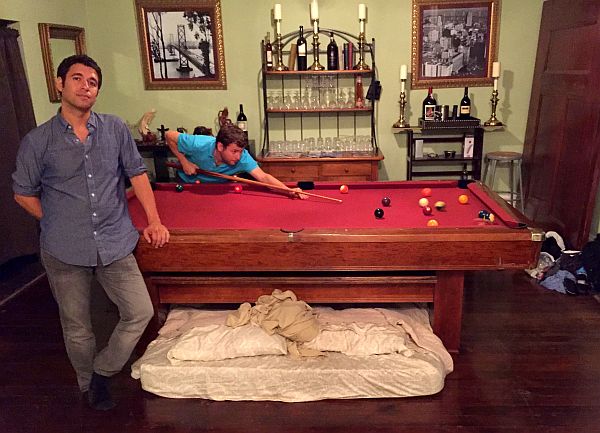 ---
Upgrading WHAT, you may ask.
The food you eat?
The books you read?
The clothes you wear?
Your personality?

No, nothing as simple as those.

It was time to upgrade my music playback systems. We once called them "stereos" or "hifi" systems.

At one time, my office amplifier was a Sansui AU-D77x. This was a big amp with an integrated equalizer. Very impressive looking but . . .
Along came a Rotel RX-875 receiver. This was a solid performer but eventually one channel began fading, and I replaced it with an Onkyo TX-8211. The Onkyo was (and is) a nice receiver. It is modest, however.

When KEF released the LS50 speakers, the critical response was astonishment. Here were $1500 "bookshelf" speakers that compared favorably with floor-standing, "full range" speakers costing well into five figures.

I looked at the Cambridge Soundworks Ensemble speakers in my office. They consist of two satellites and two large subwoofers, and they cost about $600 over 20 years ago. They fit perfectly in my office. But I was dreaming of the KEFs now. I wanted to upgrade!

But what would the "modest" Onkyo receiver feel about driving the KEFs? It could do it, sure. But I was doing one of two things: (1) rationally understanding that I needed to match the performance capability of the key components in my music system, or (2) lusting after fancy new stuff. As a grown-up, I'm all about rational decisions only, so I bought a new receiver to replace the Onkyo.





In addition to the retro art-deco style, the Outlaw RR2150 has a very good built-in mm/mc phono stage, speaker selection options for A, B, AB, and off. It has a subwoofer output on the rear panel that includes selectable, analog bass management (and yes, I use it). And it has enough connections so I can hook everything up, including output from an MP3 player or a DVD from my computer so that I can watch Swan Lake while listening to it through the big system.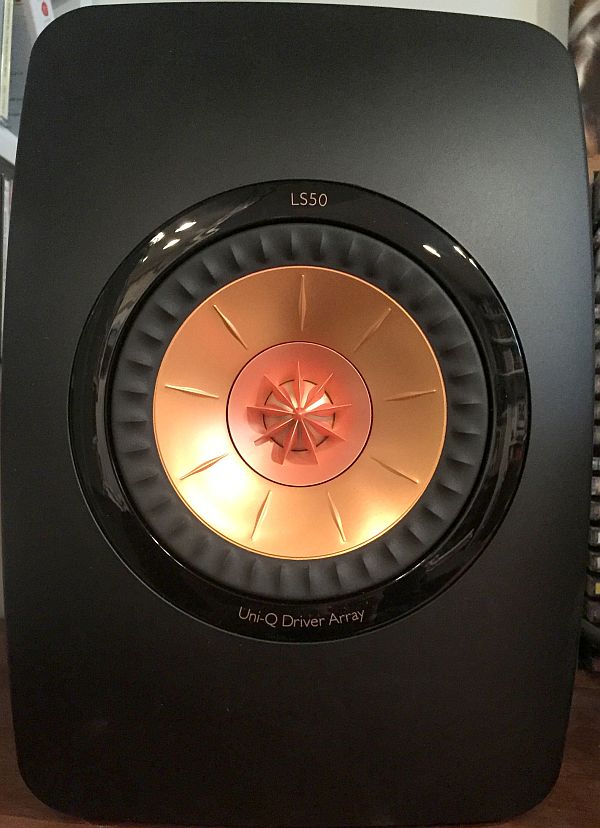 The KEF LS50 speaker weighs 16 pounds and measures 12x8x11. It looks and feels bigger, and the sound is immense. The design is two-way bass reflex, and it uses KEF's Uni-Q driver array.

I listened for a long time and read the arguments pro/con about whether the LS50 would be helped or hurt by a subwoofer. I finally decided to add one.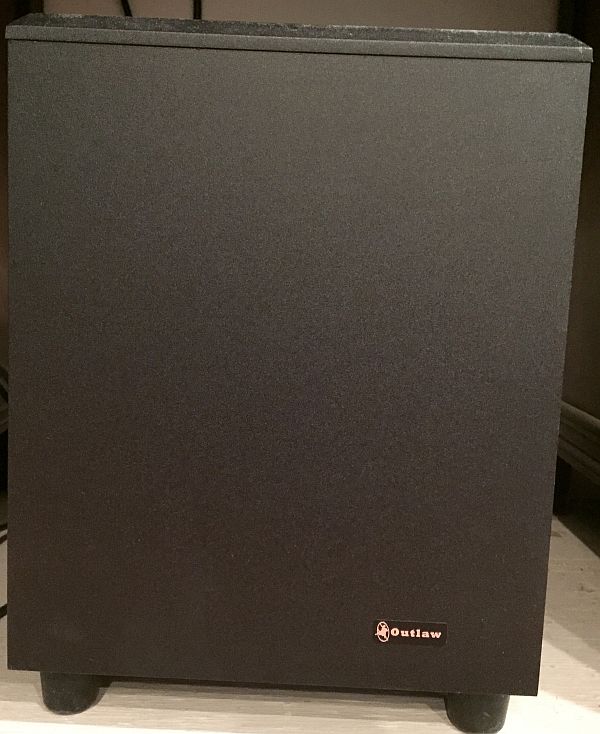 The Outlaw M8 is a powered subwoofer weighing 28 pounds. It works well with the KEF and (of course) with the Outlaw 2150.

It didn't stop with the Office Upgrade, however.

In the main listening room, I had upgraded the cartridge on the venerable Technics 1650 turntable. I went from the Denon DL-160 to the classic Denon DL-103 (alas, not the 103R).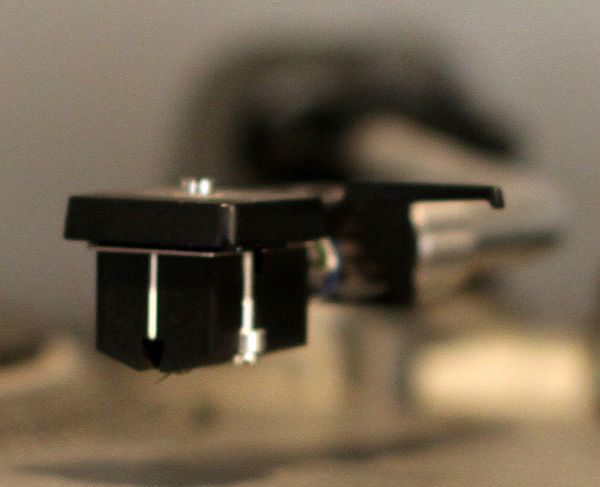 Although both cartridges are moving coil (MC), which means they produce less output than a moving magnet (MM) cartridge, the 103 produces less output than the 160, and now my NAD phono stage was not a good match. The NAD, in fact, was built only to drive MM signals. So it was time to upgrade the phono stage. I researched and read, and decided several times on a specific phono stage, and then I un-decided. I finally settled on the iFi iPhono MM/MC Phono Preamplifier.





It's not much to look at. But of course, you never see it, since it sits atop the NAD 370 amplifier, beyond view. But the iFi immediately brought life to LPs playing on this system, and finally gave the Denon 103 a chance to show what it can do.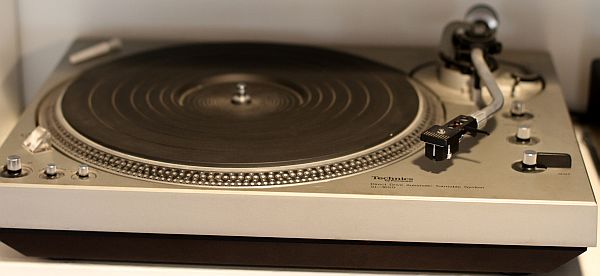 [January 17, 2015] [top]
---